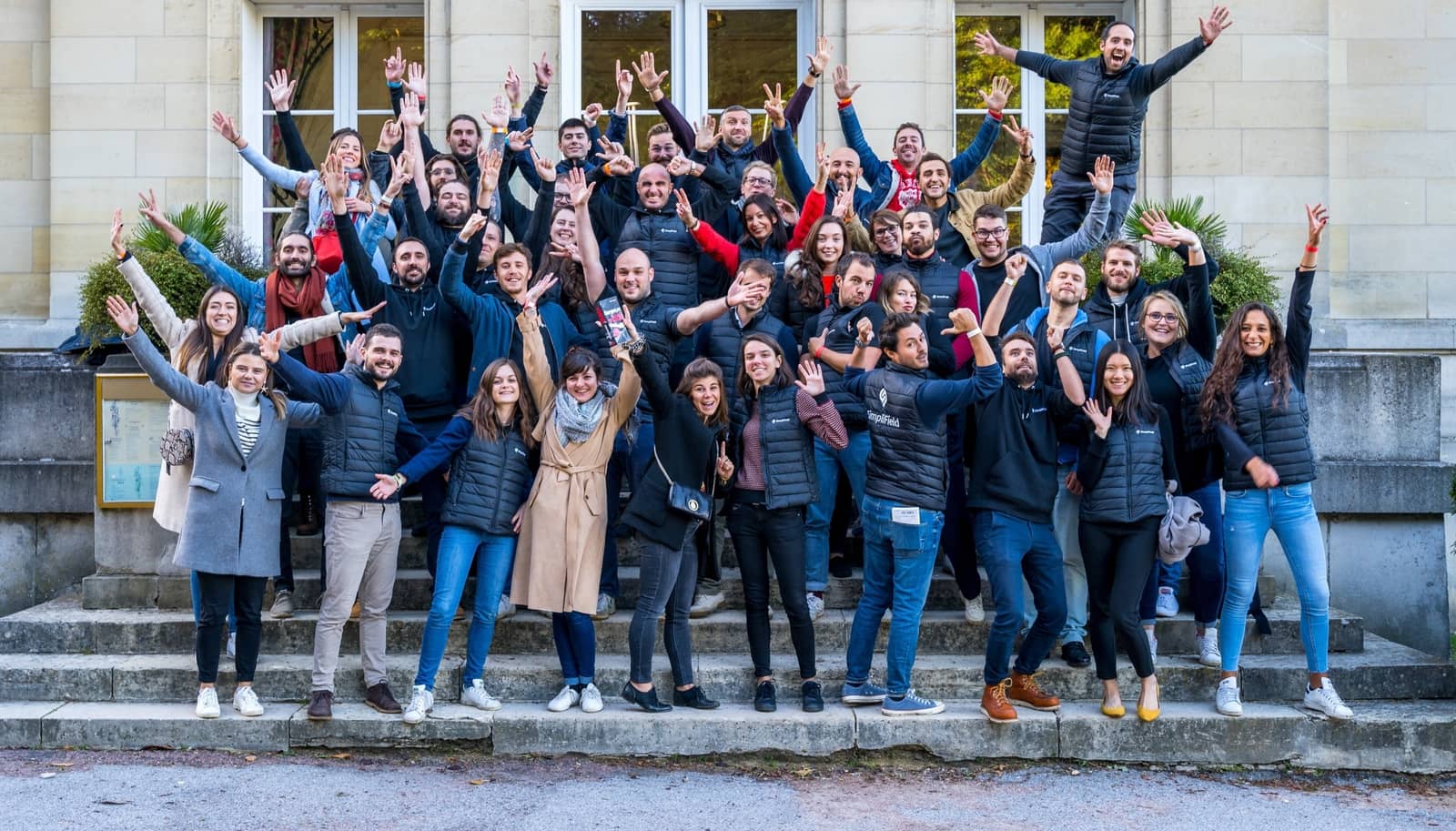 Just like the rest of the world during the pandemic, the global team at SimpliField has had to adapt to the rather (if we may say) extraordinary circumstances.
While this meant becoming a global remote workforce, getting our Zoom on and spending many hours swapping fun GIFs, we managed to keep rolling through this period and totally reinvented our way of working together.
SimpliField is a truly international start-up with global clients, employees from all around the world, as well as two offices in France, but also another across the Atlantic in New York! Yet, here we are, still bringing our solution to the retail industry as a solid team.
But let's be real, none of this would have happened without the support of our awesome HR team.We interviewed Marjorie Palasse, our Head of Human Resources, to depict the workings behind SimpliField's COVID experience.
From communications and recruitment, to equipment and fun socials, heres how SimpliField has adapted to remote work best practices, new client needs, and maintaining a high team spirit.
1. Wow, Covid really turned things on their head. In terms of remote work best practices, was SimpliField already prepared for such an event?
At SimpliField, we always supported the option of working from home. Why? Because it allows each of our employees to focus on specific projects or find a better work-life balance (including avoiding long commuting times!).
Pre-COVID, we not only rehearsed remote working practices due to the public transport strike in December 2019 in France, but each employee could already take 2 to 4 home working days per month. All the necessary measures were therefore already rolled out at SimpliField to meet the challenges of the widespread deployment of a remote work culture. We even made the switch company-wide a week ahead of confinement.
Beyond people and their legitimate daily concerns, the most difficult thing was to decide exactly which HR solutions to implement despite the uncertainty brought by legal changes and governmental support.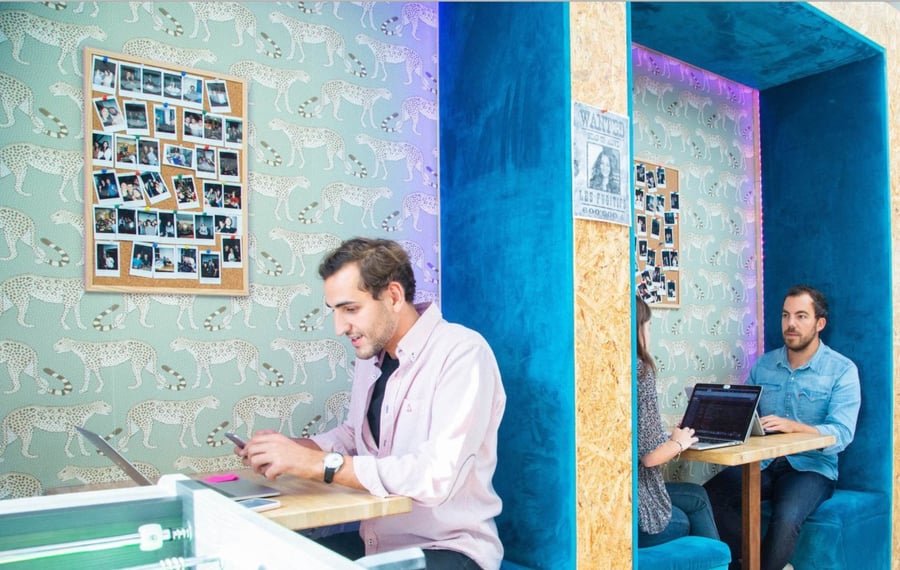 2. What measures did you put in place to evaluate and maintain the team's motivation and well-being from afar?
To do that, we relied on 3 main pillars:
(1) Collecting and analyzing feelings.
‍For the past 2 years, we've been using an anonymized online survey tool (OfficeVibe) which allows us to collect employee feedback and measure their level of engagement. Thanks to this tool, we designed surveys to understand the different perceptions of each team and office in this unique situation, and were able to implement adapted action plans. For example, several colleagues indicated that they lacked the appropriate tools to work effectively from home, so we allocated a budget for them to be well equipped!
‍(2) Regularly and transparently communicating on the situation at SimpliField and with the industry.
‍We immediately put in place weekly "Ask Me Anything" Q&A sessions with our CEO (Benjamin Zenou) who, after a holistic situational analysis (internal, industry, customers, prospects), answered our teams' questions. Employees have an opportunity to continue to check in and ask him questions directly. Managers also set up daily checkups with their respective teams. That said, we also maintained our "All-hands", but in a video call format: this is our monthly meeting during which each department presents its projects and successes of the month to all of SimpliField.
(3) Staying in touch.
‍Without our usual social ties at work, we had to get creative to stay close, from afar. It was essential for us to keep every single associate on board, to make sure no one was isolated or cut from the life of the company (even if slowed down). To keep things fun, we put in place "random coffees" (a weekly invitation to a 30-min online coffee with a colleague chosen at random), gifted a free Netflix subscription to everyone, and delivered chocolates for Easter! Needless to say… but we also very quickly organised online "apéros" (or drinks for the English). So, even at low speed, in the storm, the whole crew stood united!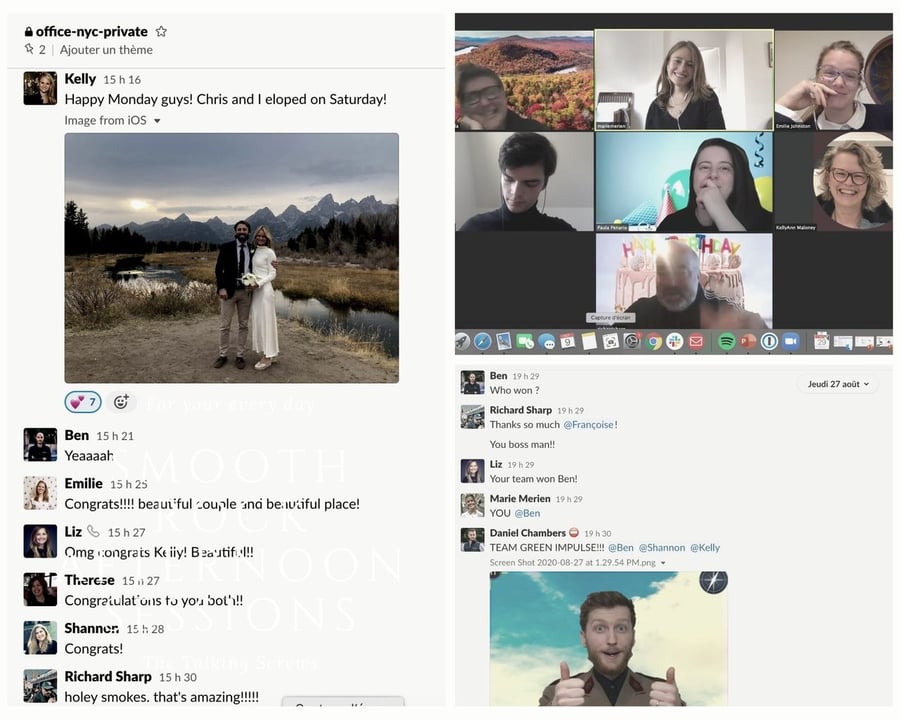 Yes indeed, like many companies, some of our internal plans have changed. But so did the needs and priorities of our clients! Our team was able to adapt very quickly to meet the new challenges they faced: for example, SimpliField supported brands and retailers upstream with the reopening of their stores in compliance to sanitary regulations, but also in ensuring the safety and regaining the trust of their teams and customers.
4. You've even had to deal with SimpliField moving offices in Paris just after the confinement. How did you create and maintain a safe space for the team?
In fact, thanks to teamwork, the move to our new office in Paris ran very smoothly! Offices reopened early July in France, so after checking in with our teams and the employee committee, it was obvious that many wanted to come back to the office.
Of course, we implemented COVID health and safety measures including an attendance schedule to guarantee compliance with recommended distances, as well as readily-available masks and hydro-alcoholic gels. In the US, we've also given our team members the flexibility to stay in New York or work remotely to stay with their families.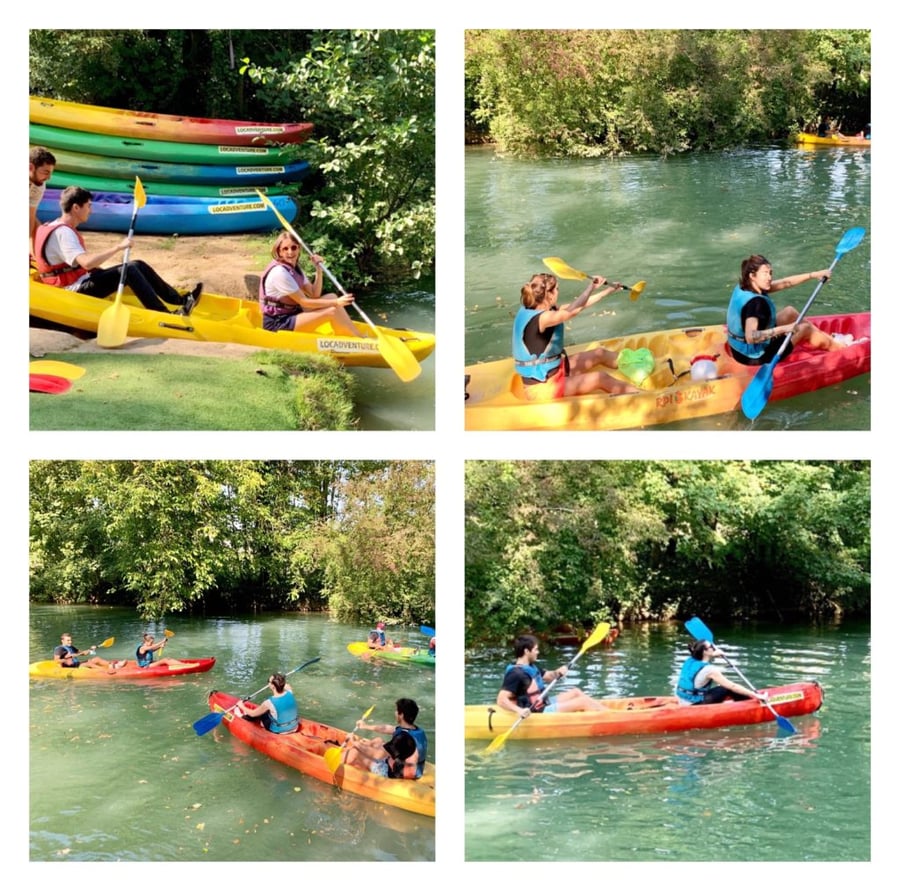 5. What were your top 3 tools to stay connected when remote working?
Slack for asynchronous communications.
Zoom for video calls.
OfficeVibe to check in on the team.
+ Bonus: Notion for sharing written documentation.
6. Many say offices are obsolete today. True or false?
I don't agree with this very Manichean position. We do not have enough hindsight to know of the impacts of the "office" on the longer term or of its significance for employees. My mission is to orchestrate all the right solutions to our employees' needs, and to provide the flexibility expected, so that, individually and collectively, everyone is focused and achieves their goals. What is fundamental is to clearly communicate the direction for everyone to have the visibility to organize themselves.
Concretely? Based on the survey responses, we are currently working with some "fully remote" teams, whilst others come to the office on a voluntary basis, including for client or team meetings. Company-wide, we host one team lunch per month, one team building per office per quarter, and two global corporate seminars (when possible) to maintain team cohesion and dynamism.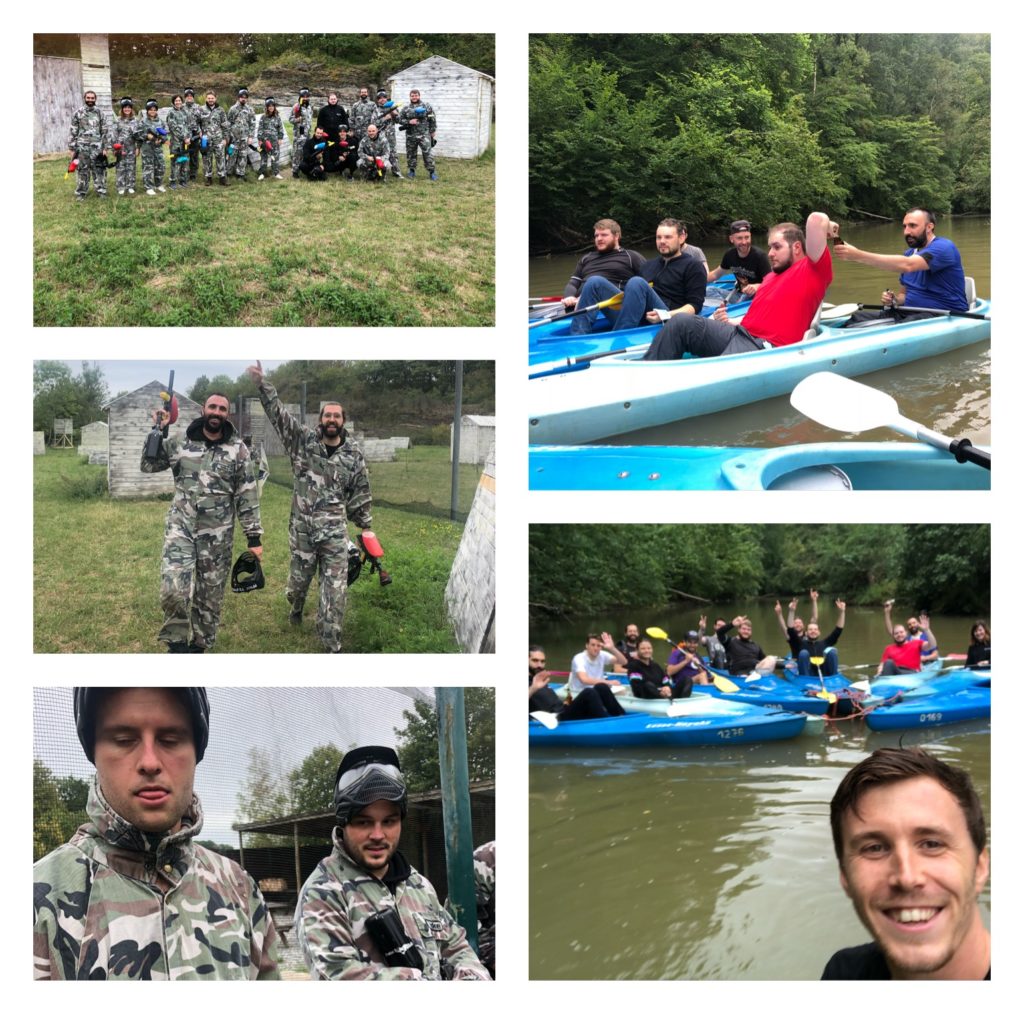 7. How has your work as Human Resources Manager changed due to the pandemic?
Well, the existing and very well-defined processes have not changed much. My missions have evolved: beyond attracting, developing and retaining talent, the priority became to reassure employees, prevent risk, orchestrate new modes of organization and maintain a good level of communication. Plus, my function is now more centred: both keystone and linchpin to crisis management with collaboration and support, and with the entire company. What has definitely changed is the distance: our 4 new recruits joined us after going through a fully online recruitment process, and that's a first!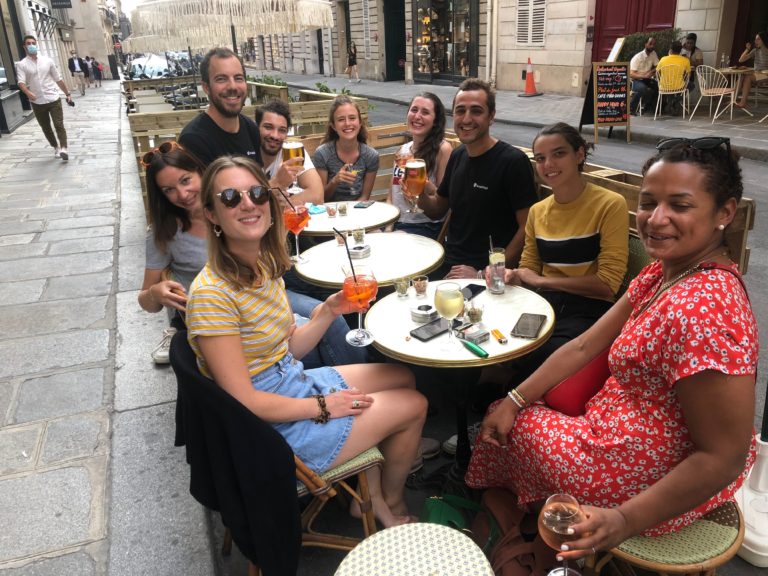 8. In such a fast-paced start-up environment, how are you dealing with newbies and sharing new knowledge? Do you have remote training practices put in place?
We brought more framework to the onboarding process and have developed our written culture. To do that, we created some sort of "company Wikipedia" using the online tool Notion. The onboarding can also be found there and refers back to documentation written by each team. You can find our culture, values and practices which enable each new associate to be comfortable in their new position and their missions in less than a month.
9. If you had a special edition HR magic wand, what would you wish for right now?
If I had some magic HR wand, I would wish that every person of working age in the world does a job which allows them to live decently, and from which they can gain satisfaction and recognition!
Key Takeaways
Putting remote working practices in place takes time, but by communicating with your teams transparently and regularly, by investing in the right tools, and by implementing changes incrementally, success is bound to follow suit.
Knowing and understanding what your employees need is THE most important factor to consider when planning for change.
It's OK to not have an office if you explain your choice and that you check in with your teams. What is NOT OK is to forget to maintain social ties at work. Collaboration and motivation are key to having a solid team, so make sure to put in place new ways to have fun times!
Subscribe to Retail Tomorrow
Get our latest insights and analysis about innovation and retail