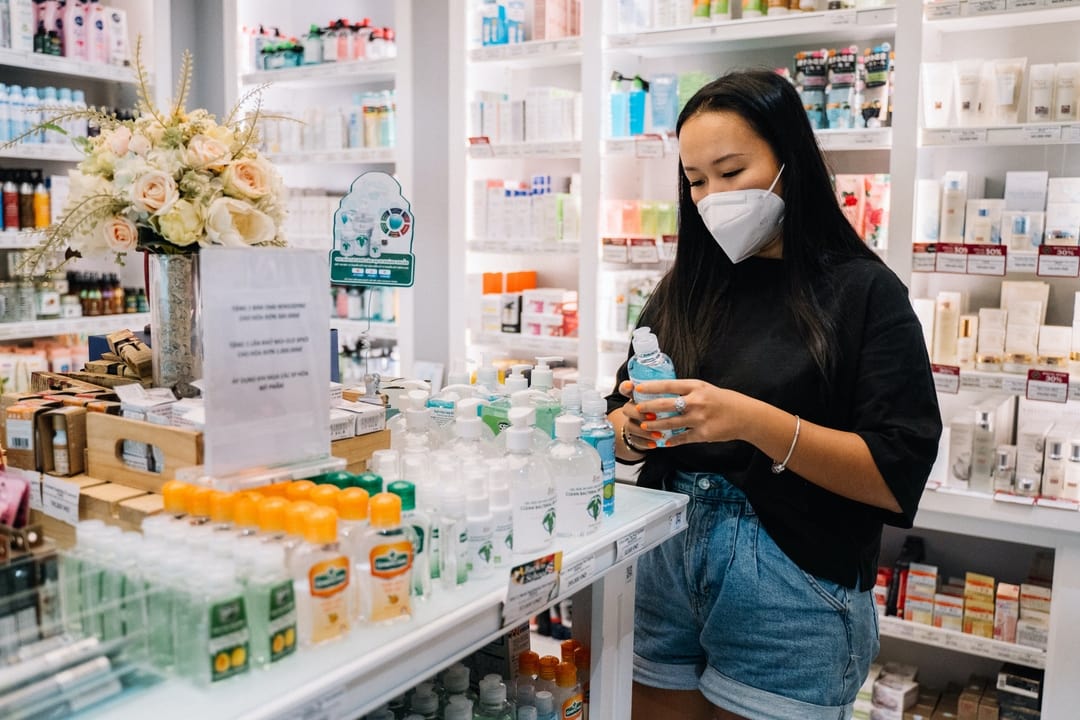 When you own a retail store and you're trying to move products out the door, it's tempting to show off everything once. But don't do it!
Pandemic-induced social distancing and sanitization protocols have switched up the rules a bit, but visual merchandising remains the art of displaying products creatively and strategically—albeit with new customer expectations and health/safety protocols in mind. It's a game of nuance, not numbers.


Here are 7 common visual merchandising mistakes and how to avoid them (with a pandemic twist).
1. Sensory overload
It is possible to pack a display with product and related décor — a "more is more" approach — but it takes an incredibly good eye to do so without the space appearing cluttered. For most retailers, the better way to go is to curate a well-organized collection of products and give customers the visual and physical space they need to explore them, especially when people need to remain socially distant from one another.
That said, it's not a museum — people should feel like they can pick up the items in the display without knocking things over or messing up the artistic feel. Balancing decor with white space will not only look harmonious, it will give more visibility, highlight brand narratives and drive shoppers to follow merchandising cues.
Plus, even with the pandemic, customers have shown that they are willing to touch and feel, with or without gloves!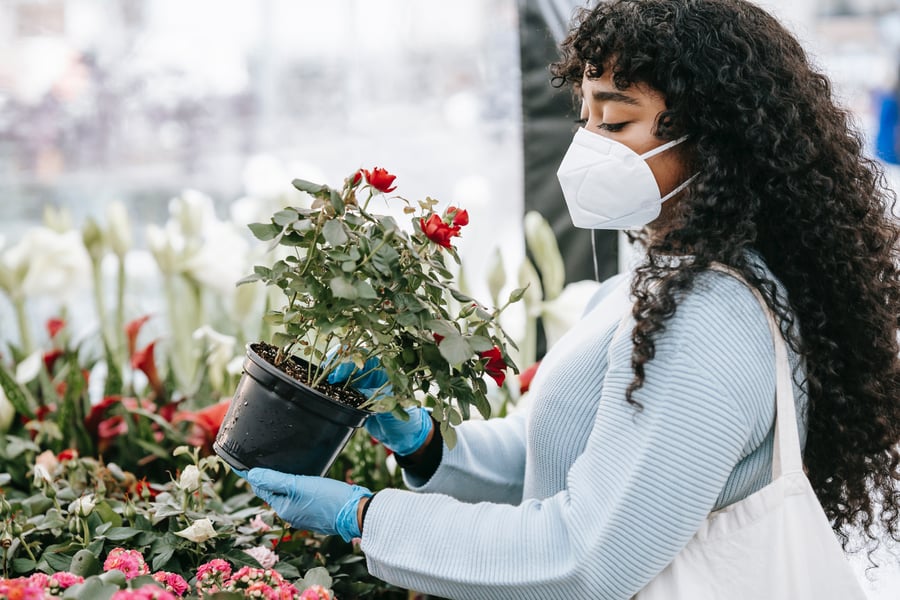 2. Lack of cleanliness, pure and simple
People interacting with your display is a good thing — they're interested in the products. Leaving it looking disheveled after they've done so though is decidedly not a good thing. Neither is poor sanitization: COVID-19 has amplified the need to keep things as germ-free as possible.
Tidying up, cleaning and sanitizing are imperative, and they're more likely to lead to a sale. Items strewn about haphazardly are going to be perceived as less valuable than the same items placed neatly where they belong, and that sense of disarray may also scream "don't touch" to those most concerned about getting sick.
Assigning someone the task of straightening, dusting, cleaning and sanitizing at regular intervals throughout the day is essential. It only takes a sec, and will have a big impact. Dump bins, acrylic trays and organizers of all types such as the rotating stand shown here will help keep products corralled, and they can be sanitized thoroughly on your designated salesperson's cleaning rounds.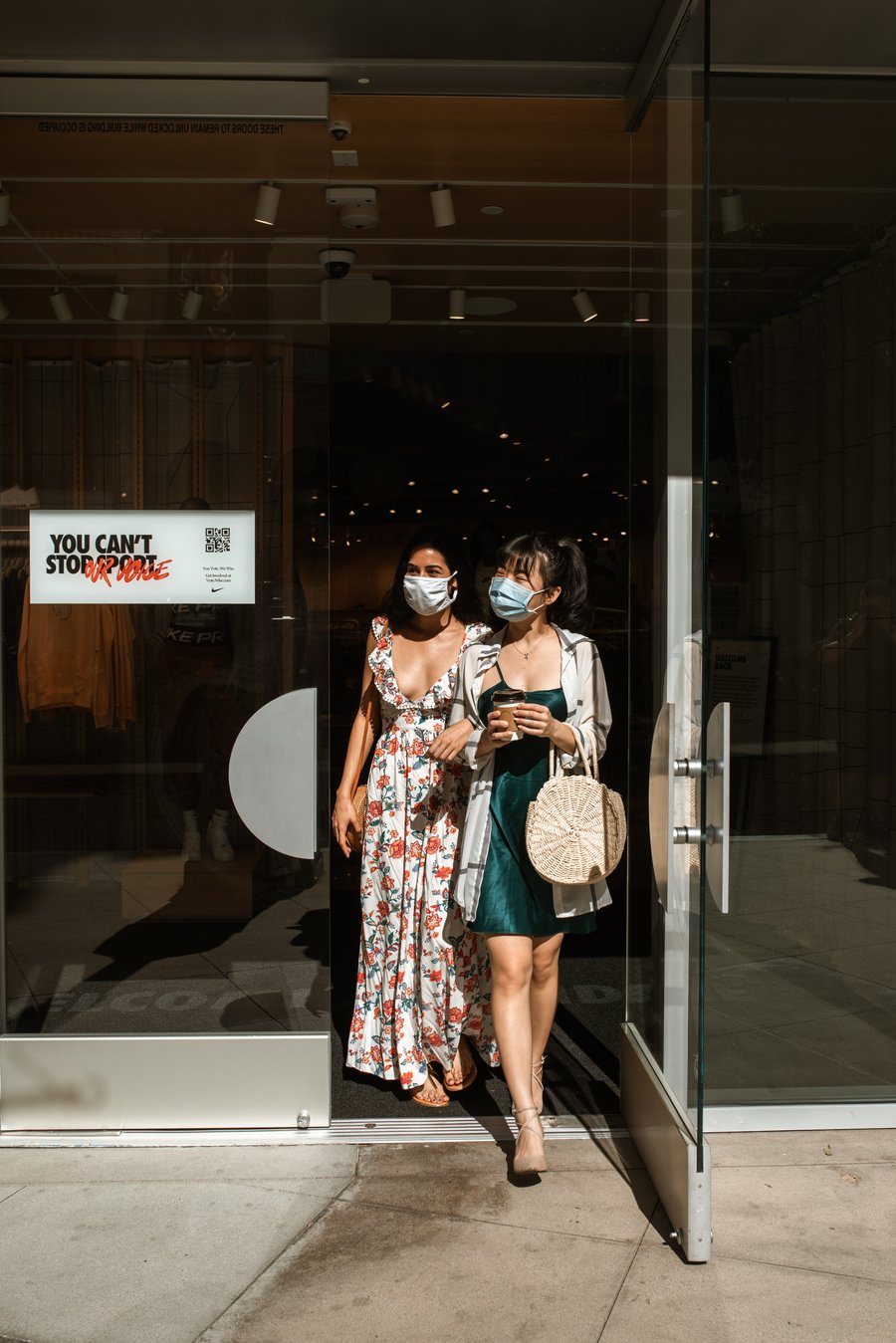 3. Same old, same old
When you've created a smashing display that's sending products flying out the door, you may be tempted to leave it as is — but where does that leave repeat shoppers and loyal customers?
Refresh displays regularly so there's always something new to experience. Seasonal displays, sporting events and product sales are obvious ties, but there are limitless ways to move product around to attract attention anew. Make it a bluebird day any day of the year if you sell birds, bird items or things that are blue.
A refresh is also a great opportunity to give the items going off display and the display itself a deep cleaning. If you own or manage several retail locations and want to coordinate across them, tools like SimpliField are perfect for creative collaboration, brand alignment and getting everyone on the same page in terms of social distancing and cleanliness protocols.


4. Missing out on impulse buys
Cross-merchandising is a proven way of encouraging impulse buys — and those impulse buys can really add up over time. Of course, the pandemic has added an extra degree of difficulty here, but it's not insurmountable.
As pointed out earlier, people are still willing to pick up and examine items, but they may not be so eager to sample them or try them on (if they're even able to, as most stores put their changing rooms off limits). If you want to keep those impulse buys out of reach but still tempting, showcase them safely at strategic points and train your salespeople how to share them with customers effectively.
If the items are wearable, add more mirrors at various angles so people can envision what something might look like on them. If they're edible, provide individually wrapped samples with a beautiful tag that reminds people of your brand.
If they're cosmetics, lotions, or scents, find ways to enable your customers to leave the store with samples without having to touch communal displays (swiping on a bit of eyeshadow that others have already touched is on no one's list during a pandemic). Clear acrylic boxes and shelves can make a big difference here, enabling customers to see products from all angles safely.
5. Horizontal thinking
Every surface in your store is a potential display surface, and people like something to see. Think three-dimensionally. How will you draw people to the back of the store? To consider specific products?
Use walls to showcase product images, brand-related design elements and anything that looks great on a shelf from afar. Suspend decorative or directional signage from the ceiling. Use floor pedestals to lend a sense of uniqueness to an item, and light it from below to add an air of elegance and exclusivity. Place smaller items on display cylinders and cubes to make them stand out inside a glass counter.
Also be sure to have the right cleaning and sanitizing products on hand — very important with acrylic, which cannot be cleaned using the same products you would for other surfaces — so you can keep your store looking its best while ensuring customers are as safe as possible.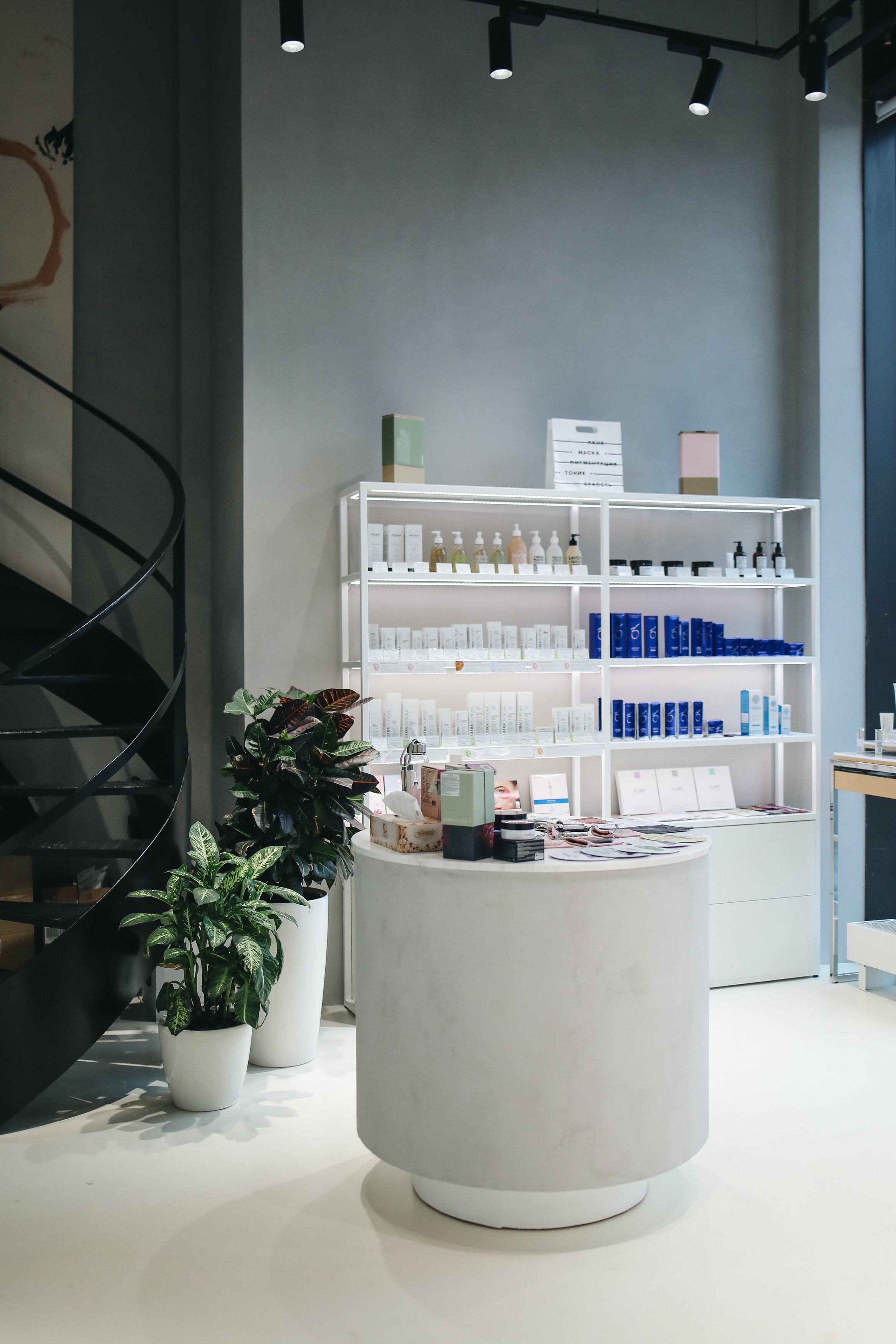 6. Bait and switch
Excess inventory is no one's friend, but no one will be your friend if you display an item that you don't really have available. Make sure that your product displays showcase items you have in abundance (and in a variety of sizes, styles or colors, if that's relevant).
Alternatively, make it clear that the items on display are all available. The latter can be effective, too, as it creates a sense of urgency on the part of the shopper. Acrylic signage displays can help "clear" things up, and it's easy to swap out content as needed. They're also easy to clean and sanitize.
7. Insisting people wander the store
Buy online, pick up in store has gotten so ubiquitous with the pandemic that it has its own acronym (BOPIS). That area near the entrance set aside for pickup is a merchandising opportunity that gives skittish customers an option they'll appreciate.
Some retailers are adding kiosks such as the one in the image near entrances that customers can use to see what's in stock, get a salesperson to bring it to them, order anything that isn't immediately available, and pay for it all right there without having to risk interacting with others. Resistive touchscreens (vs. capacitive) only require the pressure of a finger to work, so they're compatible with gloved hands. Give each customer inexpensive, disposable gloves before they go to the kiosk and access to hand sanitizer on the way out.
Also consider deploying touch-less screen overlays and, if you have more than one kiosk, separating them with hanging or freestanding acrylic sneeze guards and barriers.
Voila! Contactless convenience with a little on-screen merchandising thrown in for good measure. Of course, adding last-minute temptations within arm's length of the kiosk won't hurt, either.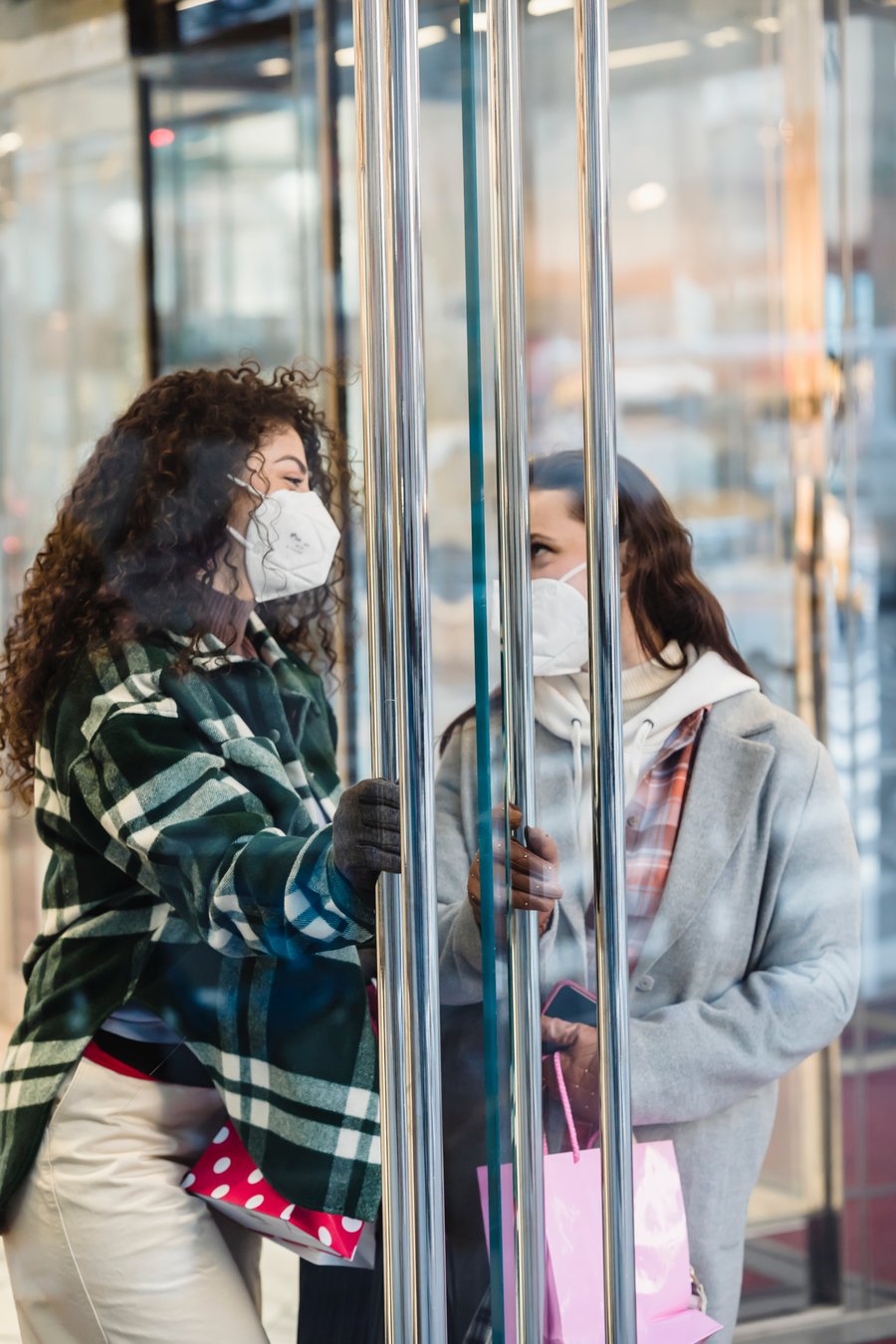 Conclusion
Visual merchandising is key to enticing customers to come and stay in your store longer, engage with your brand and products, and ultimately make a purchase. It's still possible to do so successfully with pandemic modifications in mind. Take a moment to give your displays a critical assessment, then get busy!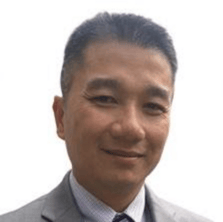 Ray Ko is the Senior Ecommerce Manager at ShopPOPDisplays. With years of experience in the retail space, Ray is an expert in formulating and implementing e-commerce strategies to increase revenue.
Subscribe to Retail Tomorrow
Get our latest insights and analysis about innovation and retail