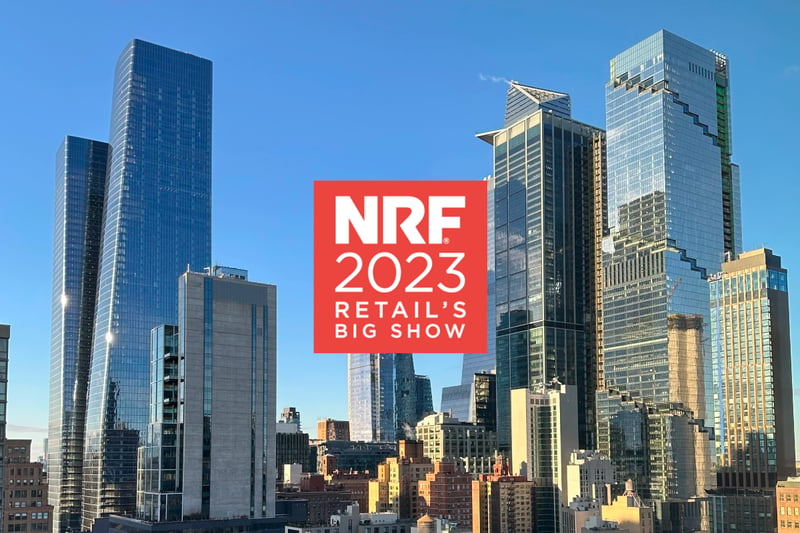 SimpliField kicked off 2023 by attending the annual National Retail Federation (NRF) conference in New York City. As usual, the event brought together some of the most cutting-edge companies and thought leaders from around the world for three days to discuss the latest trends, technologies, and challenges facing the retail industry.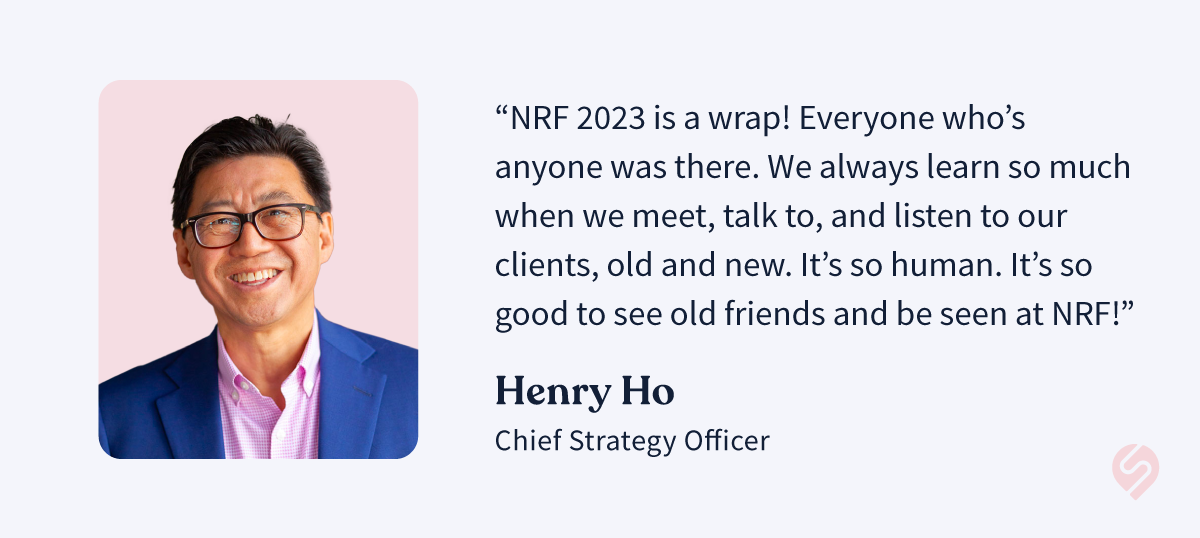 This year's event featured some exciting keynote speakers, sessions, and panels—not to mention over a thousand exhibitors eager to share their newest innovations. We were thrilled to contribute to the retail community's biggest event and tap into the latest ideas from around the industry! Here, we'll share some highlights, plus a few thoughts on "Retail's Big Show" from the SimpliField team.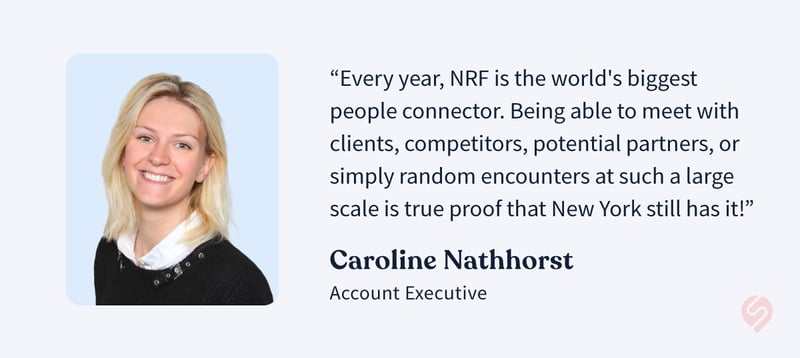 SimpliField's Ben Zenou Featured on Business France Panel
Our own CEO and co-founder Ben Zenou participated in a panel discussion hosted by Business France about entering the U.S. retail market. Drawing on SimpliField's success, Ben had some great advice for French entrepreneurs attempting to break into the U.S. market.
These were a few of his main points from the discussion:
Be ready to relearn everything. The U.S. culture and market are very different. Learn, relearn, and adapt—if you expect the same things that brought you success in France to work in the U.S., you're in for a disappointment.
Focus on sales. No matter what else you do, you won't get anywhere without a strong focus on sales. A good way to enter a market is to focus on a specific vertical to gain clients and build legitimacy.
Be prepared for turnover, especially in sales positions.
Pick the right people. Your workforce is one of the biggest parts of your budget, so make sure they're the right fit for the company and the rest of the team. Most importantly, make sure they have experience working with companies of your size and at your stage of development.
Panelist Ali Asaria, CEO and founder of the Canadian company Tulip, had some additional interesting thoughts about building successful retail organizations:
Team alignment is critical. Progress comes when everyone in the organization is working toward the same vision.
Alignment starts at the top. As a CEO, if your leadership team is only 80 percent aligned with your message, their teams will only be 80 percent aligned as well—and that keeps the entire company from making progress.
Highlights from the NRF 2023 Speakers and Sessions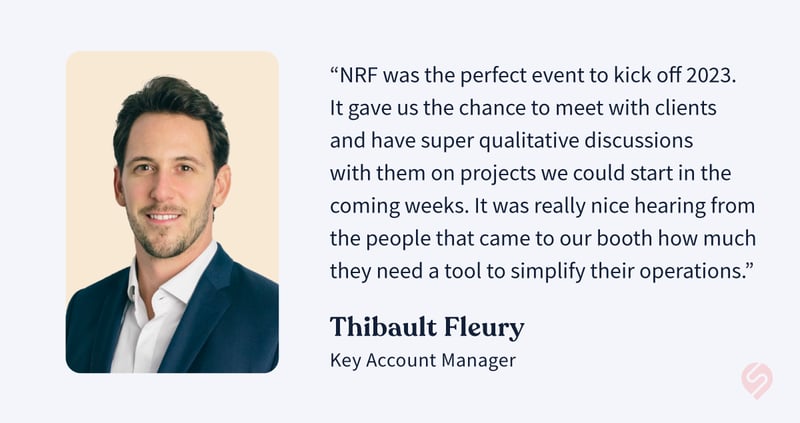 In addition to networking with some of the biggest innovators in retail, our team got to hear from some outstanding keynote speakers, including Lowe's Chairman and CEO Marvin Ellison, actor Kal Penn, and Olympic gymnast Simone Biles, who gave an inspiring presentation on empowering the next generation of women and girls.
NRF kicked off Sunday with a high-profile discussion between Harvard Business School's Dr. James Cash and Walmart U.S. President and CEO John Furner on the current state of the retail industry. The hall was packed for this one. We also got to hear from Saks OFF 5TH President and CEO Paige Thomas and Macy's Chairman and CEO Jeff Gennette.
We were really impressed with some of the new ways technology is being used in the industry. Some highlights included:
David Guggina, Executive VP of Supply Chain Operations at Walmart, hosted a session on the growing use of drones in retail. He expects them to become much more common as the technology matures and regulations are put in place.

Nikki Baird of Aptos, Calvin Anderson of VF Corporation, and Dylan Bruntil of New Balance met to discuss the changing role of brick-and-mortar stores and how cloud POS systems have transformed their in-store operations.

The Innovation Lab special exhibit showcased some of the most cutting-edge applications of artificial intelligence, virtual and augmented reality, facial recognition, wearable tech, and other growing technologies.
Key Takeaways from the NRF Big Show
Field Agent's Marc Yount picked up on some common themes in this year's show. Here were his three biggest takeaways: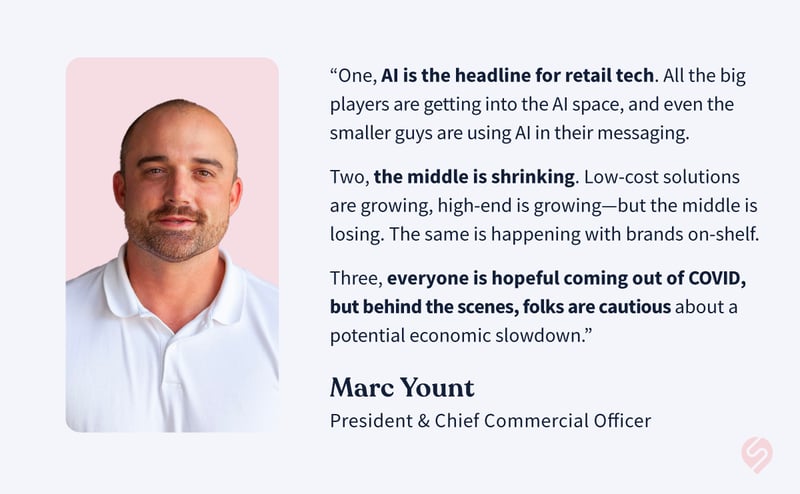 AI was definitely a big focus at NRF 2023. Companies are leaning heavily into artificial intelligence, machine learning, and other advanced technologies to improve operations and better serve customers.

"It's exciting to feel the energy in retail come alive at NRF," said Daniel Chambers, SimpliField Enterprise Account Executive. "The shared passion to deliver excellence in store for consumers. Store employees will always be the ones center stage to bring the magic. We just give them more time to do that."
Overall, NRF 2023 provided valuable insights into the current state of the retail industry and the challenges and opportunities facing retailers today. While these are uncertain times in many ways, the industry seems much more optimistic than worried. That's evident in the ways retailers are embracing new technologies to solve old problems—with exciting results.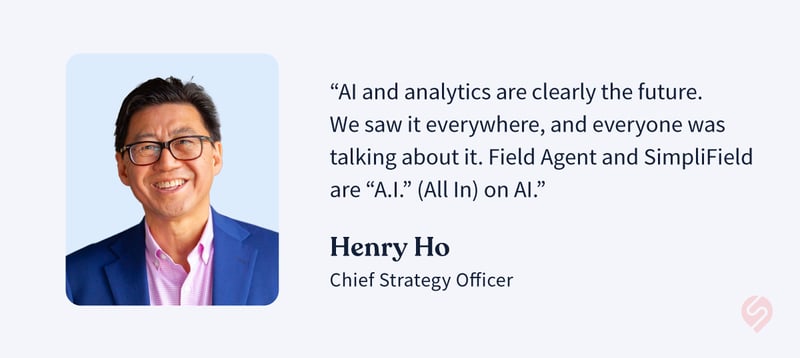 Subscribe to Retail Tomorrow
Get our latest insights and analysis about innovation and retail