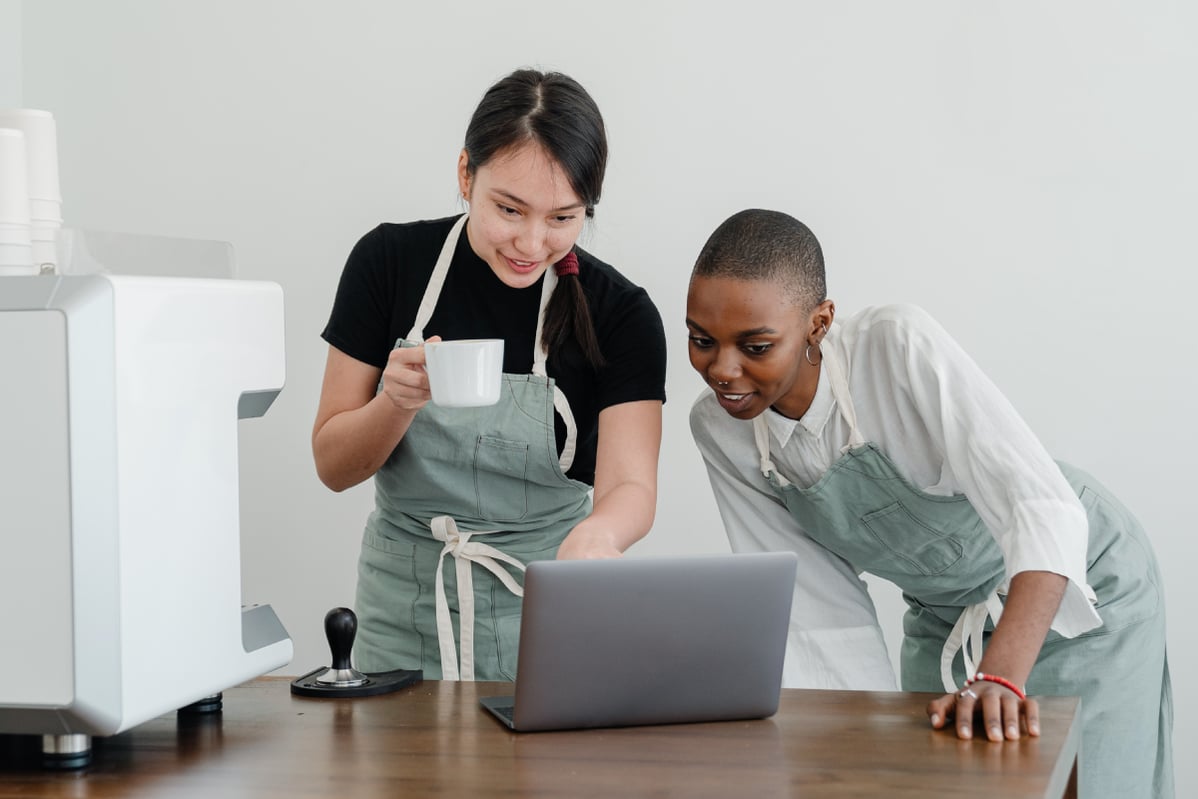 Quick-service restaurant operations can be a delicate balancing act between quality, speed, and costs—all while ensuring food safety. Increased consumer demand since the COVID-19 pandemic has led to an increase in home delivery, takeout, and ghost kitchens. In a lot of ways, the QSR business has never been better—but it's also never been more challenging as technology improves and restaurant and food brand operations become more complex.
Despite the industry's unique challenges, QSRs are figuring out how to improve restaurant operations in new ways. By focusing on business processes and taking advantage of technological and analytical tools, QSRs can optimize their operations and give themselves the best chance to succeed and grow in this dynamic industry.
Standardize Processes
In the quick-service space, consistency is the name of the game. QSR customers expect to receive the same quality of food and service every time, no matter the location or the time of visit. To pull off this kind of consistent quality, it's essential for QSRs to standardize their systems and procedures.
Getting consistent results requires controlling the inputs and the process. By developing and following standard operating procedures (SOPs), QSRs know everyone is following the same steps and adhering to the same standards, leaving no room for subjectivity.
How do you achieve this level of standardization? Every major activity should have a clearly defined and documented SOP. Food preparation is not the only activity that should be standardized—opening, closing, scheduling, customer service, and every other aspect of QSR operations should have an SOP. This can take the form of a physical document, digital instructions, or a checklist. Checklists can be especially helpful for QSRs to ensure the process is followed the same way every time.
Don't forget one of the most important steps in improving restaurant operations through standardization: training employees on SOPs. Employees must understand how to perform the procedures and the importance of following them exactly. When implemented correctly, robust SOPs can make operations more efficient, ensure consistent quality, reduce the risk of health and safety compliance issues, and increase accountability.
Invest in Technology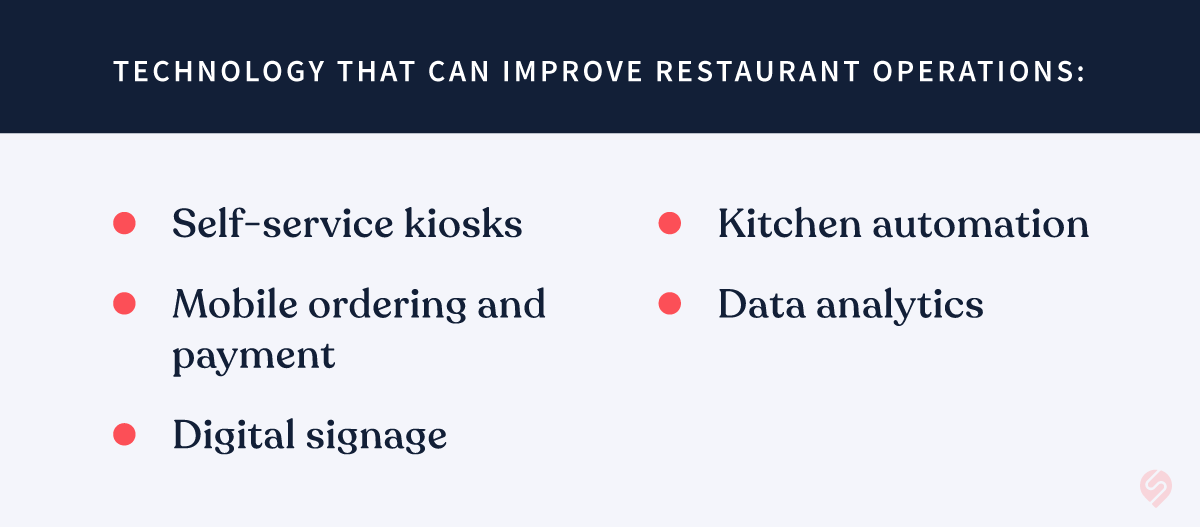 QSRs operate at a fast pace where every second is precious, and they have always looked to the latest technology to maximize efficiency and serve customers more quickly. Innovations from self-service kiosks to mobile ordering have become almost standard in the industry as QSR managers look for ways to improve restaurant operations. It's always a good idea to keep an eye on technological trends and make note of what is working in the industry.
It shouldn't come as a surprise that much of the technology in QSRs is focused on improving speed and precision. There are many ways to automate processes or streamline them so they're faster, more efficient, and less prone to mistakes. Some examples of technology that can improve restaurant operations include:
Self-service kiosks that can reduce wait times and improve order accuracy by allowing customers to place and pay for orders without staff assistance
Mobile ordering and payment, which can also reduce wait times and improve order accuracy by letting customers place their orders before arriving at the restaurant
Digital signage that can display menu information and promotions and can be updated in real time
Kitchen automation, for example, automated fryers and ovens, that can increase speed and accuracy while reducing errors
Data analytics used to collect and analyze data on customer behavior and preferences, that can be used to improve menu offerings, inform marketing strategy, and identify areas where operations can be improved, such as reducing wait times or increasing order accuracy

Mobile technology is one of the most effective means for quick-service restaurants to improve their operations. Mobile apps have become an essential tool for many QSRs to streamline their operations, improve customer service, and increase revenue.
These days QSR managers can use a single mobile platform to manage operations, communications, and analytics all in one place. Having all these tools in the same place avoids siloed systems and communications, ensuring everyone is on the same page and holding everyone on the team accountable.
Gain Insight Using Reporting and Analytics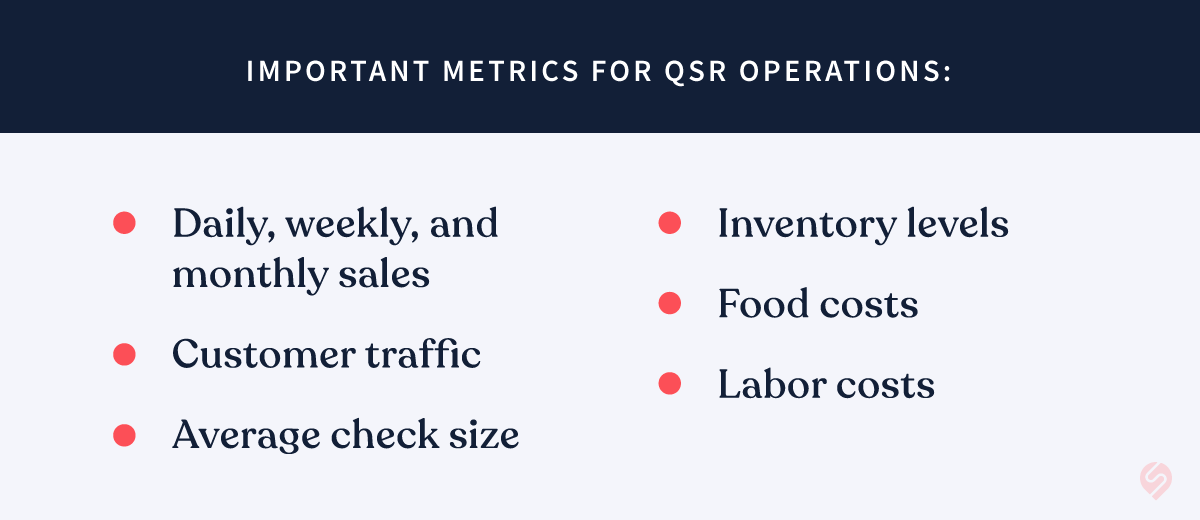 QSR operations depend on data-driven decisions. Without data, restaurant owners cannot have a clear understanding of customer behavior, sales trends, or inventory levels. This leads to inaccurate forecasts, missed opportunities, wasted resources, and ultimately, lost revenue.
Reporting and analytics play an essential role in QSR operations by enabling restaurant owners to track metrics, identify trends, and make informed decisions. This starts with identifying key metrics and collecting data. Some important metrics for QSR operations might include:
Daily, weekly, and monthly sales

Customer traffic

Average check size

Inventory levels

Food costs

Labor costs
Data analytics should ideally be real-time and integrated directly into the operational strategy. For example, when inventory levels drop to a certain point, the system should automatically inform the appropriate parties that it's time to replenish them. By analyzing inventory data and patterns over time, QSR owners can determine the optimal time to restock and how much of each ingredient or product to buy at a time, avoiding over- or understocking.
Data is the key to how to improve restaurant operations. Anything that can be quantified can be tracked and improved, such as wait times or order accuracy. QSRs should take advantage of this power by implementing an analytics platform that puts valuable data at the fingertips of team members and managers who can use it.
Increase Retention by Empowering Employees

It's no secret that employee turnover is one of the biggest challenges QSRs face. In 2022, only 54% of QSR employees reached their 90th day on the job. That means almost half of the resources QSRs used on hiring and training were wasted.
Team members are the heart of any quick-service restaurant—no matter how much data you collect or advanced technology you invest in, you'll get nowhere without an effective team. The best way to ensure your team is operating at its best is by being proactive and supporting your employees.
Given the high turnover rate of QSR employees, those first ninety days are crucial. Some of the top reasons employees quit during their onboarding period include:
Poor training

Work environment

Miscommunications with management

Dissatisfaction with wages or scheduling
Almost all of these problems can be prevented with good people management practices. The solution can be as simple as committing to ongoing, purposeful, two-way communication. When employees feel heard, they're much more likely to stick around. Clear instructions and feedback from management can help employees understand they are an important part of the organization and give them confidence they are doing their job well.
There are a variety of ways to provide feedback, such as regular performance reviews, one-on-one meetings, or employee recognition programs. A communications platform like a mobile app can allow for easy two-way feedback between team members and management. Honest and constructive communication goes a long way toward keeping employees happy and addressing any potential personnel issues before they become major problems.
How to Improve Restaurant Operations with an All-in-One Tool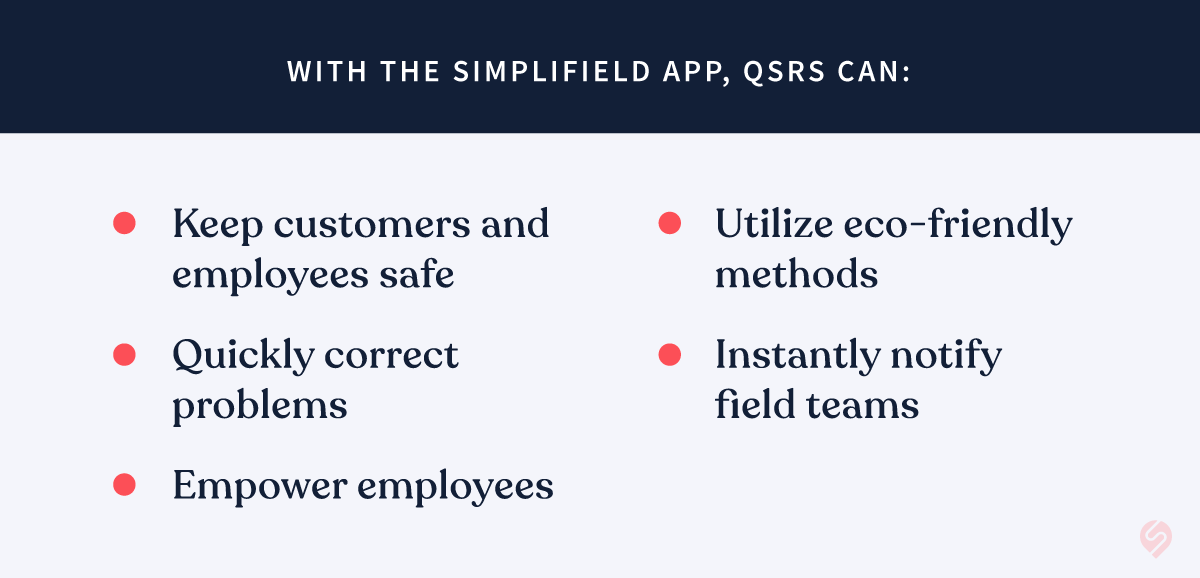 With so many areas that demand close attention, figuring out how to improve restaurant operations as a QSR manager can seem like an impossible task. And while it's true that continuous improvement is a never-ending journey, QSRs can still achieve major operational improvements that reflect in your bottom line—if you have the right tools.
SimpliField's all-in-one platform is designed to help QSRs achieve operational excellence by integrating task management, team communications, and data analytics in one easy-to-use platform. With just your team's smartphones and the SimpliField app, QSRs can:
Keep customers and employees safe by tracking and automating food safety protocols through timestamped reports
Quickly correct problems with real-time visibility, team communications, and action plans
Empower employees by giving them a voice through feedback, posts, messaging, and interactive polls
Utilize eco-friendly methods like digital checklists instead of paper, automating the feedback process
Instantly notify field teams through notifications and pop-ups for structured and reliable staff management
SimpliField's business communications, analytics, and operations platform combines everything QSRs need to drive flawless execution in every aspect of operations. Contact us for a live demo and see how SimpliField can improve your restaurant operations today by saving both time and money.
Subscribe to Retail Tomorrow
Get our latest insights and analysis about innovation and retail