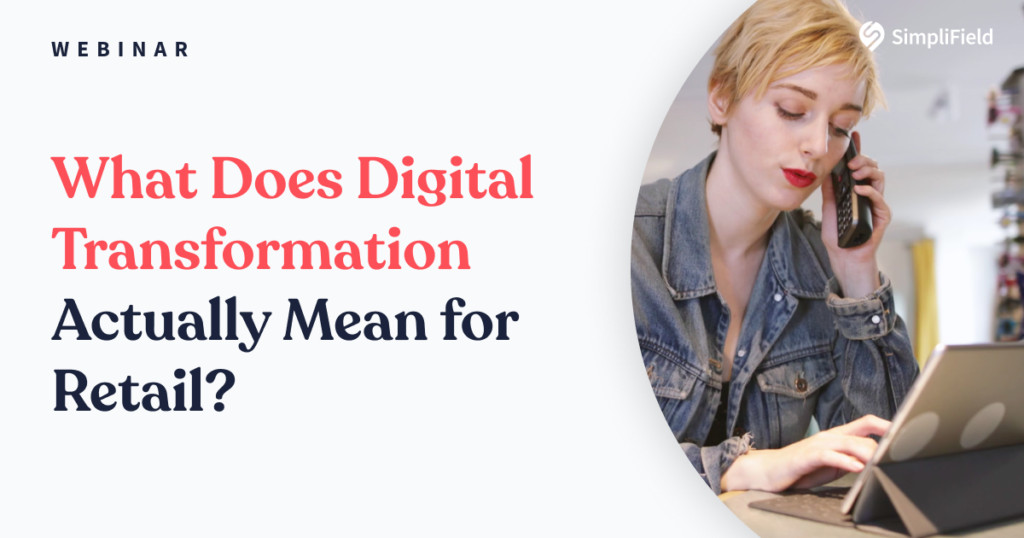 ‍In a recent BDO survey of major retailers, 54% of respondents said that increasing operational efficiency via digital transformation was one of their top 3 business goals.
But what does the phrase "retail digital transformation" really mean for brands and retailers?
‍In this webinar, we spoke with global leaders who have actually led retail digital transformation initiatives and driven complex implementations for some of the largest retail organizations in the world, including Johnathan Tate (Chief Digital Officer at LP Corporation and former Director of Strategic Enterprise Data at both Nike and Walmart), Liza Amlani (Principal, Retail Strategy Group, formerly of Accenture, Ralph Lauren and Club Monaco), and Jeremy Katz, SimpliField's VP of Customer Success.
‍Here are 5 things you need to know to lead a successful retail digital transformation.
1. Digital Transformation In Retail Is A Means To An End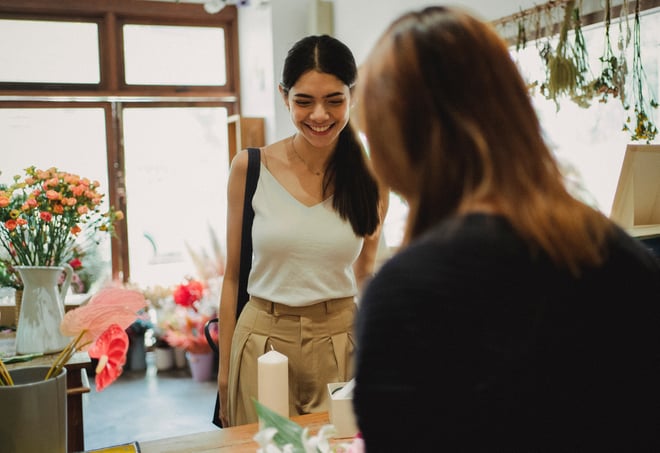 For brands and retailers, digital transformation has got to be one of the most confusing expressions that's overused and misused. According to Jeremy Katz, digital transformation is not a goal in itself, it is a means to an end: "The goal is really for companies to help deliver incredible customer experiences that help drive revenue at the end of the day. And digital is a way that we can open up new revenue streams, a way to do things differently."
Having said that, to create seamless customer experiences, the process of digital transformation must remove manual processes and redundancies, but always be customer-centric: "Digital transformation really just means the simplification and modernization of processes from your end-to-end [...] but it must be centered around the customer", said Liza Amlani.
Fundamentally, digital transformation must also be founded on the value proposition of the company and its future.
Jonathan Tate explained how the team at Nike envisioned a digital transformation to move to a direct-to-customer market: "It required a complete digital transformation in how we entered the market, delivered our product, and managed our business inside of Nike itself. So we worked through a multi-phase strategy to look at end-to-end information and data insights about our consumers, market and product, as well as kickoff strategies that really revamped our entire business model internally. And one key aspect of that was an enterprise strategy around data and analytics, both from a technical lens in IT, but also a business lens."
2. The Top Digital Transformation Trends In Retail For 2021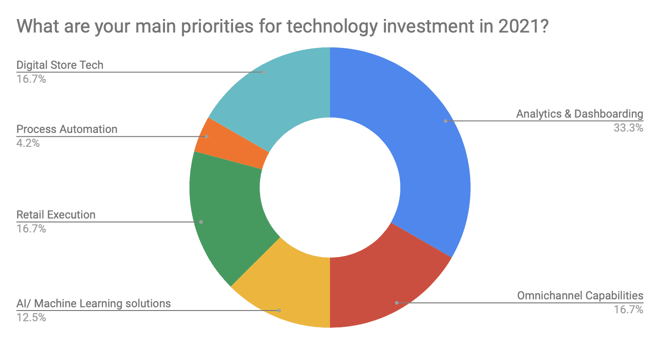 "Digital transformation was always something that people strived for and had several years to go out and adopt. Now that COVID is here, we don't have that time or that luxury. It's a necessity just to survive to get our entire technology stack digitized and give the ability back to employees to collaborate remotely and gather data through digital technology," said Jonathan Tate.
Based upon data from a 2020 Forrester report, we asked our attendees exactly what were their retail technology priorities for 2021. Unsurprisingly, one third responded that Analytics and Dashboarding was a top priority, followed by Omnichannel Capabilities, Retail Execution and Digital Store Tech.
The panelists highlighted how retailers and brands have also increasingly focused on technology supporting better communication and customer experience, along with a big focus on improving efficiency.
Jeremy Katz highlights this is what SimpliField teams have been working to solve with clients: "What we've seen in 2020 with some of the major shifts in the market is that the goals of brands have shifted fairly dramatically on very targeted, quick wins in order to ensure a few things: safety for their employees and customers, defending revenues, and upgrading remote experiences that they can offer to their client base."
‍To achieve that, retailers and brands have embraced cross-channel integrations, virtual appointments, compliance monitoring and training to leverage store teams, even remotely.
3. You Can't Get Started Without Building A Data-Obsessed Culture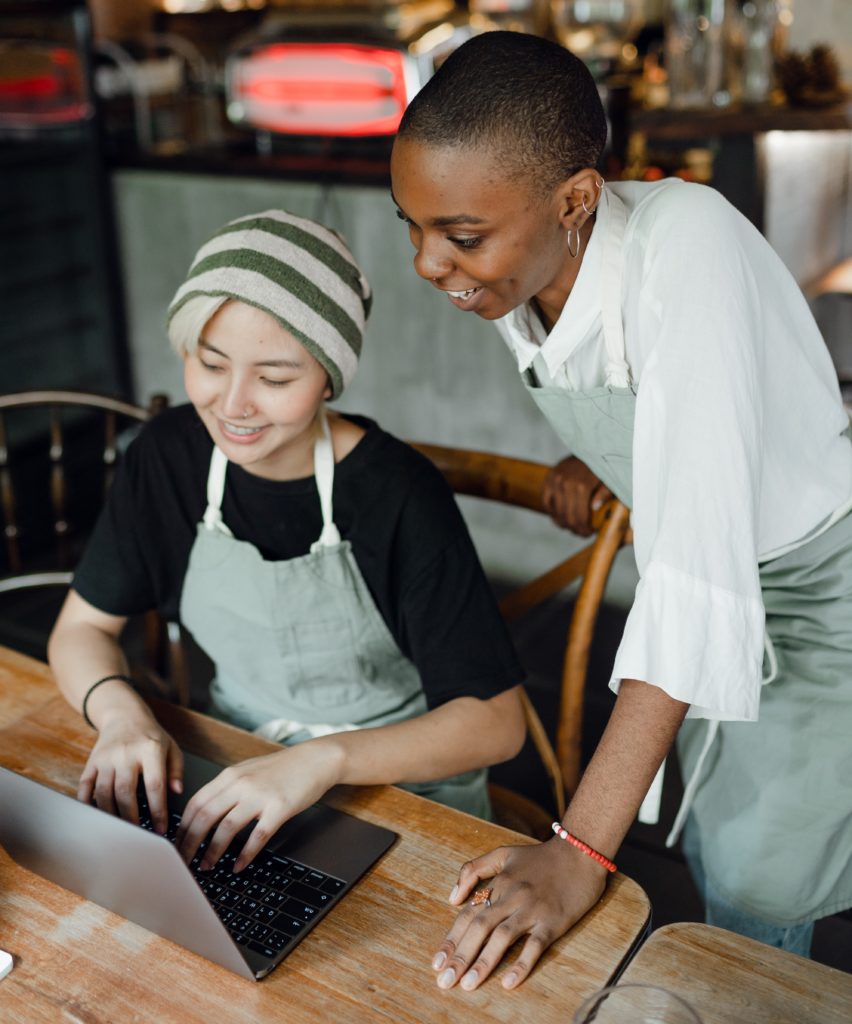 When we asked the webinar attendees what their biggest challenges around digital transformation were, the lack of corporate strategy, internal talent, and internal agility came through as the top three concerns. Indeed, without a corporate strategy led by true talent, digital transformation cannot be successfully implemented.
‍"The simplest thing you can do first is up-level a strategy around data and analytics as a company, and put that at a very senior place in the organization. Because you want that leader and that organization to drive a framework, strategy and standardization across all of your business functions, and in all markets. If you do that right, you're providing value to your executive team and your leadership, but also value back into those markets or business units. And it becomes a very symbiotic relationship," said Tate.
However, a data-obsessed culture first requires commitment to digital transformation. "Launching initiatives big and small just simply doesn't work if there isn't very serious commitment from leadership. Strategy is great. Digital strategy, maybe. But the ongoing commitment to change management is much better," said Katz.
Digital beginners should "establish a vision from the top, communicating it over and over again at an aspirational level," said Katz, and this by regularly communicating specific milestones in the ambition to achieve the longer-term vision.
4. Why Your Employees Are Your Most Important Assets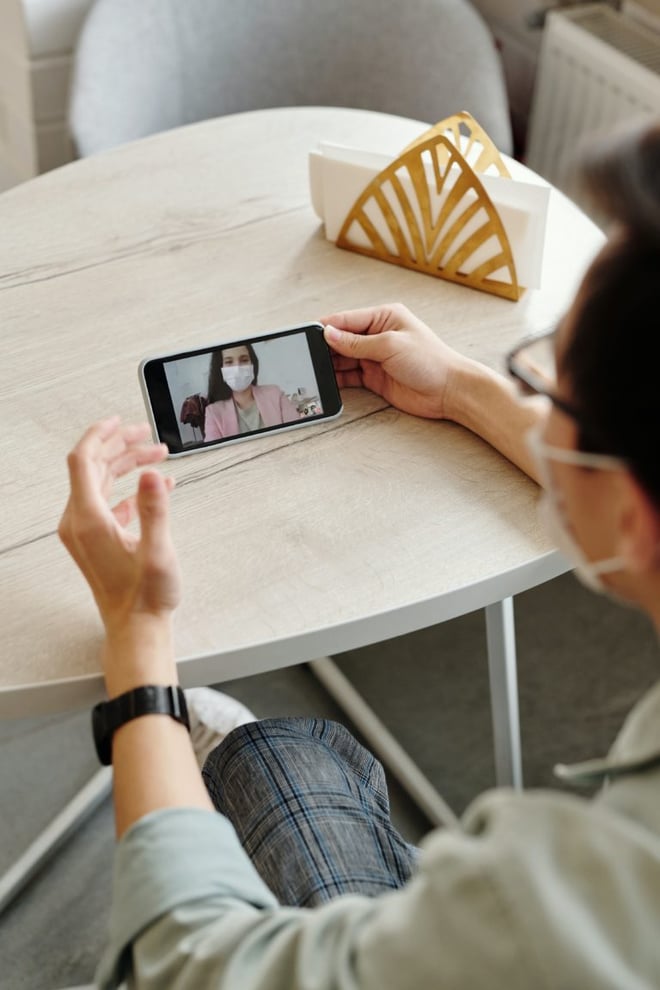 "We can no longer survive with the old mentality that we leave it up to our market managers, store managers or retail directors to read their customers, and make gut decisions on what they think the right product assortment or mix of advertisements should be," said Tate.
In fact, and particularly since the pandemic, the best way to ensure that you can totally understand what is happening on the ground is by sharing information with your store employees.
"In this crazy environment we're living in right now, your people in the stores have lots to share with you. And so it's important that you have the right communication channels to gather and leverage all of those market insights on what's happening within, but also outside of your stores," said Katz.
However, if you want to pull that product and customer data to drive insights and make better data-driven top-down and bottoms-up decisions, you need to get your employees on board.
As Amlani points out, the data needs to be hyper-localized to answer the right customer needs, "because once you really understand your customer, and get your staff on board and empower them, you'll see a successful transition. If you can't get them on board, your technology is not going to be implemented because they will fight the process. So really having that seamless integration across all staff is really key."
5. Why Digital Transformation Requires Commitment to Change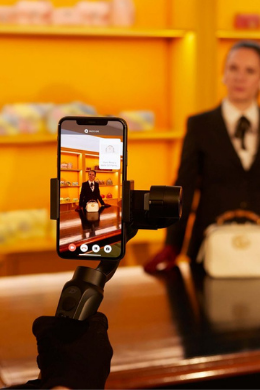 Digital transformation is an ongoing process: "Digital transformation is not a thing. It's a business transformation that's enabled by digital. The moment you stop thinking about your customer, operations, or new opportunities in the market, you're gone. Digital should enable you to do those things. It shouldn't be the end goal," said Katz.
In fact, brands must remember that the store, particularly today, is about bringing experiences to customers, not just to sell goods. Despite the pandemic, Katz highlights that brands must "look for upsells in their interactions, ways to surprise their customers remotely or when they do come back. Brands are very focused on protecting their revenue right now, which is very understandable, but it shouldn't make them lose sight of what experience they want to deliver to customers."
‍Its ever changing nature also means that it requires adequate change management: "What's been a big blocker is just the assumption that we can easily make everyone understand what digital transformation is, or that they understand the tools and the technologies. And we don't stop to think through the change management required to bring the business along with us," said Tate.
According to Amlani, this also means investing in talent: "There's a labor challenge. For retail to move into this digital space and advance digitization, they need to hire the right people. And the problem with retail is that they don't pay as well as companies like Google or Apple who are hiring the data scientists and the people that we need to actually really level-set this digital transformation."
The Takeaway
Digital transformation in retail isn't new, but it has often been misunderstood as a goal in itself. Retail digital transformation is actually a means to an end which requires commitment, a data-obsessed culture and real customer knowledge from those working daily in the field: your employees. In 2021, brands and retailers will be looking first and foremost to double on retail digital transformation efforts by investing in analytics and dashboarding.
To watch the full webinar replay, click here.
Need help building connections with your team, providing clear and transparent leadership, and rebuilding your communications to get real-time feedback from the ground up? Contact SimpliField today.
Subscribe to Retail Tomorrow
Get our latest insights and analysis about innovation and retail